Competencies
Safe and reliable solutions thanks to our expertise
Our skilled and dedicated employees and more than three decades of experience equip us with robust competencies that benefit our customers. We increase the competitiveness of your products through the following competencies.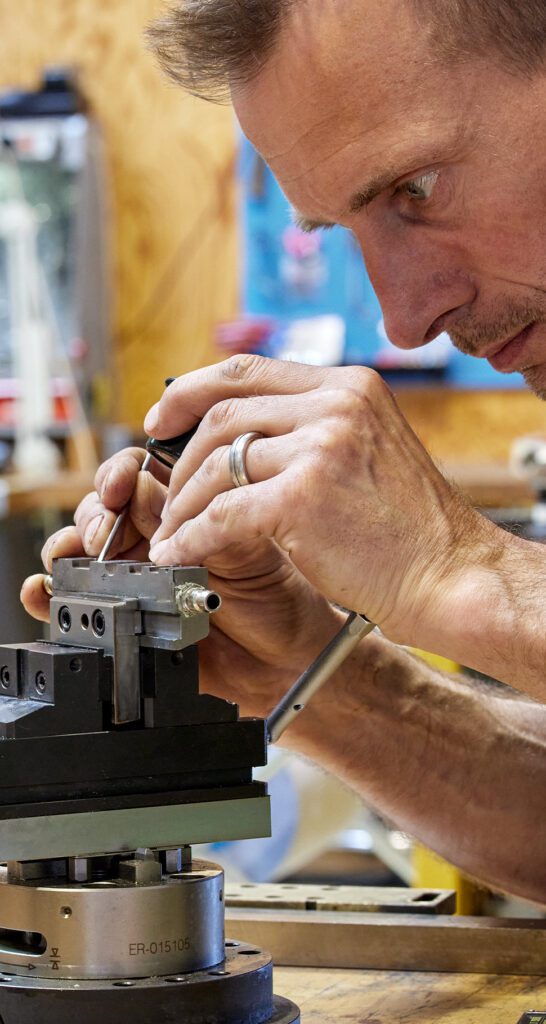 CUC Engineering's core competencies
PTA
In the workshop of our production engineering department, we are able to develop, manufacture, repair, check and fine-tune tools and moulds, including test tools.
– Robots and automated installations
– Tool service and maintenance
– Maintenance of technical installations and machinery
– Fixtures
– Documentation
– 3D printing
Quality
We have standard procedures for quality assurance of every project stage as well as tested project methodologies that ensure your project is optimally planned, managed and monitored from start to finish.
–  ISO 9001, ISO 13485, ISO 14001
– Food contact material approved
– PPAP
– Optical and tactile measurement
– Vision
– Capability studies
Logistics
We work with a number of logistics solutions.
– Individual customer and supplier agreements
– VMI
– Consignment inventory
Plastic
We mould products in all types of plastics, and we have extensive experience with moulding and overmoulding on vertical machinery.
– Engineering plastics: PSU, PPS, LCP, TPU, PEEK, etc.
– Recycled plastics and bioplastics
– 2K moulds
– Vertical machinery moulding and overmoulding
– Pad printing and heat embossing
View more
Cables
We are specialists in developing and producing cable solutions tailored to our customers' needs.
– Manual moulding
– Thermoplastic moulding & overmoulding
– Hotmelt moulding & overmoulding
– Glues: Cyano, epoxy, silicone PUR
– Potting
– Electrical and mechanical testing
– Stripping, soldering, crimping, etc.
View more
Box Build
Full or partial Box Build of electromechanical assemblies.
– Assembly, megatronics
– Packaging
– Final trial, testing and packaging View more
Development
We use:
–  Pro Engineer / Creo 3D CAD
–  Moldex3D, product and process simulation
– MiniTab, capability We have a constant focus on further development, which is why we work with a large network of specialists.
– Danish Technological Institute
–  Force Technology
–  UL
–  Bureau Veritas
–  Bolls
–  TÜV
–  DMR
–  Etc.
Zeiss measurement 
We offer capability studies and verifications on performed measurements.
Want us to find a solution to your challenge?
If you are interested in working with us or have any questions regarding how we can help, please do not hesitate to get in touch. Curiosity gets you the furthest, after all, and we value close, transparent collaboration throughout the project.
CLICK HERE TO CONTACT US